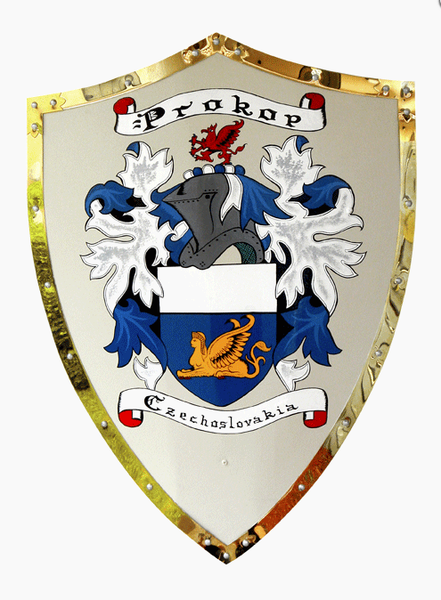 Hand Painted Duke Shield
Forged from steel and curved to deflect swords, the Duke Shield honors the knights of these campaigns with the historical coat-of-arms granted to your family surname, painted by hand on a 25" h x 18" w medieval shield.
Choose from two impressive formats:
1. Battle Style:
Your hand-painted coat-of-arms fills the entire shield like a traditional battle shield
2. Nobleman Style:
Your hand-painted coat-of-arms features accent helmet, mantling, crest, surname and family motto (or country of origin) for a majestic look, for an additional $20.
Then, the authentic coat-of-arms is hand-painted by a master artist with durable oil-based enamels for vibrant color and lasting finish. A metallic border seals the look, and a chain at the back makes for an easy wall display.
Brackets are also included that allow for the addition of a set of swords for an even more impressive medieval display.
Ships FREE within the US

Finished size is 25"h x 18"w

Made-to-order artwork ships out in just 2 weeks

All nationalities available!